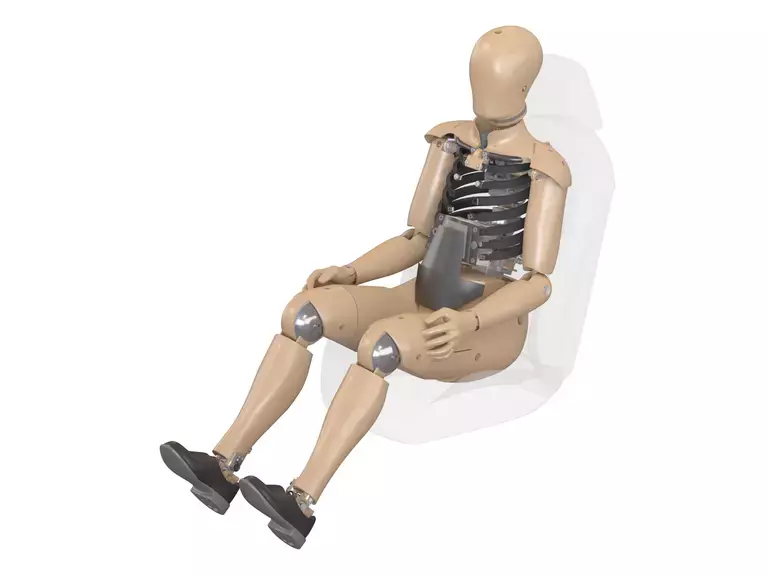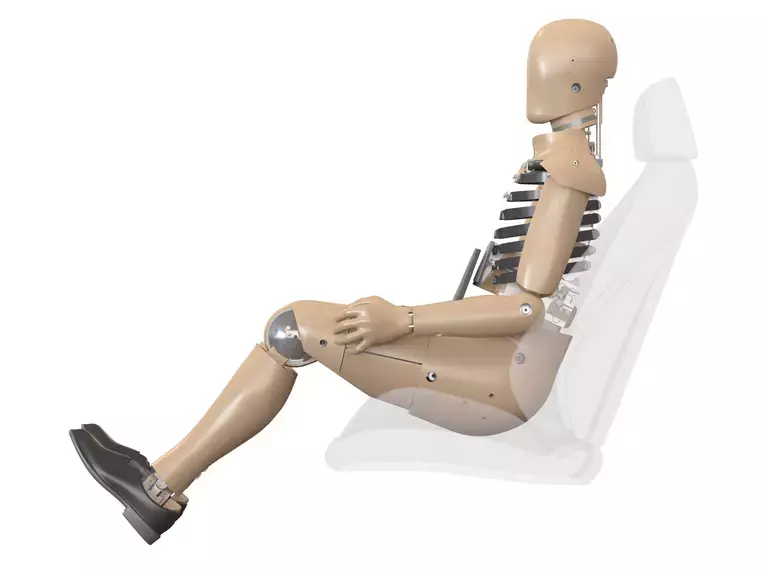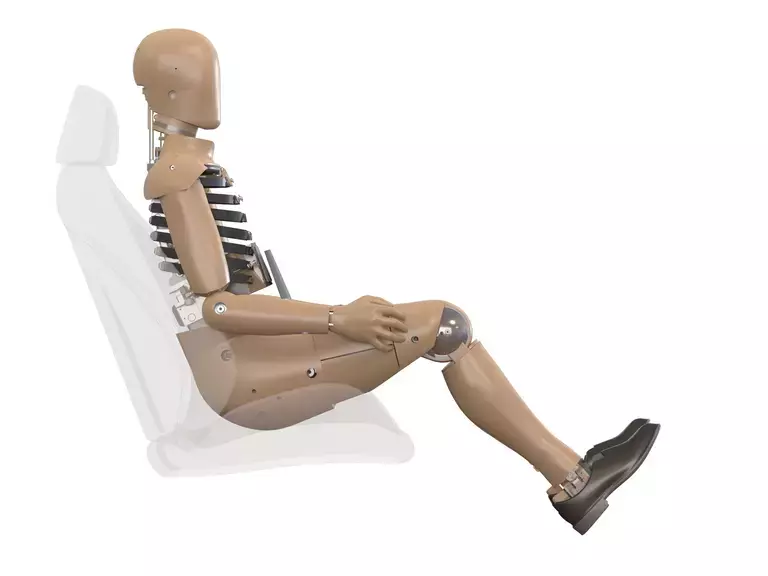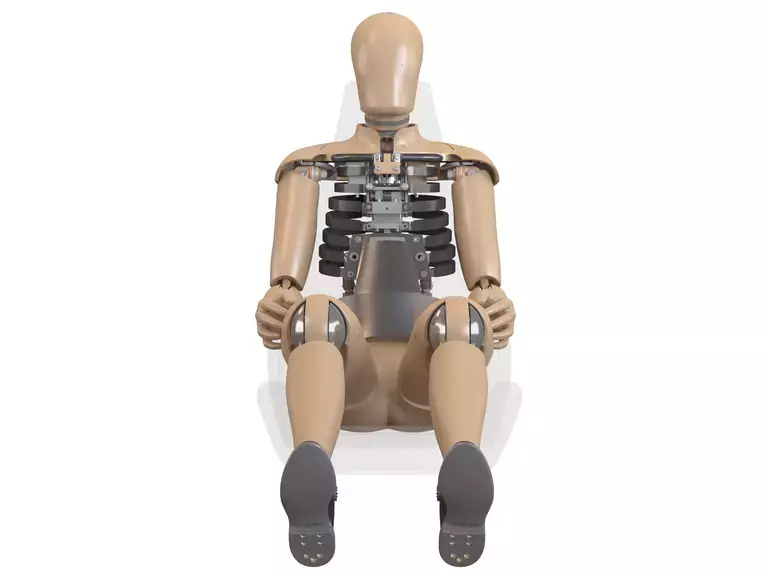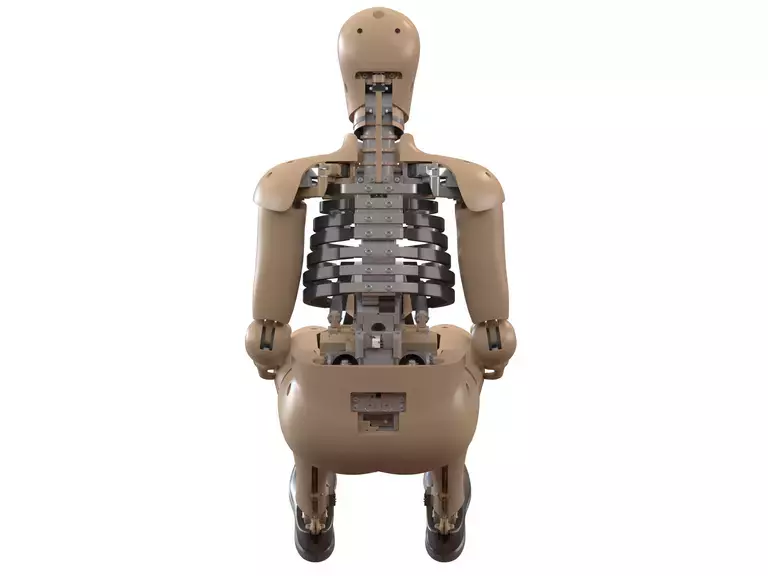 THOR-50M
Standard ATD 472-0000
Euro NCAP ATD 472-0000-ENCAP / 472-0000-ENCAP-L
Our Test device for Human Occupant Restraint, or THOR, is the future of crash-technology, available today. THOR incorporates major advancements in biofidelity and sensing, with significantly expanded instrumentation and improved user handling. Available in adult male and female models, THOR is our most sophisticated ATD for assessing whole-body trauma in a variety of occupant restraint environments.
THOR-50M is an advanced frontal-impact 50th percentile adult male ATD. Descended from a series of prototypes and production models that have been in continuous refinement since 1995, the THOR-50M design is currently being validated by NHTSA and Euro NCAP for certified use in frontal impact tests. Humanetics is actively involved in addressing the test procedures, replacement parts and other refinements needed to ensure regulatory adoption.
THOR-50M was under active development from 2009 through 2020.
Specifications

Key Features

THOR-50M biofidelic kinematics (versus Hybrid III 50th Male)

Neck: Improved representation of occipital condyle, muscle and bending shape
Thorax, shoulder: Improved restraint interaction
Spine: Flexible joints in thoracic and lumbar spine
Pelvis: Less coupling to femur motion
Femur: Biofidelic axial load response
Development: Approximately 2016, ongoing in 2020

Product Specifications

| | | |
| --- | --- | --- |
| OVERALL DIMENSIONS | 1015.6 x 486.4 x 1231.4 mm | 40.0 x 19.1 x 48.5 in |
| TOTAL WEIGHT | 76.6 kg | 168.9 lb |
| FOOTPRINT/WORK AREA | 1015.6 x 486.4 mm | 40.0 x 19.1 in |
| SEATED HEIGHT | 0.0 x 0.0 x 906.5 mm | 0.0 x 0.0 x 35.7 in |

Applications

 Testing restraint systems in frontal vehicle crash scenarios

Regulations

| WHERE USED | DEFINING REGULATION |
| --- | --- |
| Euro NCAP | MPDB Moving Progressive Deformable Barrier Frontal Crash Protocol |
| ANCAP | MPDB Moving Progressive Deformable Barrier Frontal Crash Protocol |

Instrumentation

| LINEAR ACCELEROMETERS | LOAD CELLS | LOAD CELLS | TILT SENSOR | DISPLACEMENT |
| --- | --- | --- | --- | --- |
| Head Axyz, Axyz | Face (5X) Fx | A.S.I.S. L/R Fx, My | Head Θxy | Thorax IRTRACC Upper L/R Dxyz |
| Upper Thoracic Spine Axyz | Skull Spring Fz | Acetabulum L/R Fxyz | | Thorax IRTRACC Lower L/R Dxyz |
| Lower Thoracic Spine Axyz | Upper Neck Fxyz, Mxyz | Femur Fxz | | Abdomen IRTRACC L/R Dxyz |
| Pelvis Axyz | Lower Neck Fxyz, Mxyz | Leg Lower Fxyz, Mxyz | | Tibia (Knee) L/R Displacement Dx |
| Foot L/R Axyz | Clavicle L/R (4X) Fx & (4X) Fz (total) | Upper Tibia Fxyz, Mxy | | Ankle angles L/R Θxyz |
| | Upper Arm L/R Fxyz, Mxyz | Lower Tibia Fxyz, Mxy | | |
| | Thoracic Spine Fxyz, Mxy | Achilles L/R Fz | | |
| | | | | |

Simulation Models
Resources

Data Sheets & Flyers Product Catalog Manuals & Instructions Technical Bulletins