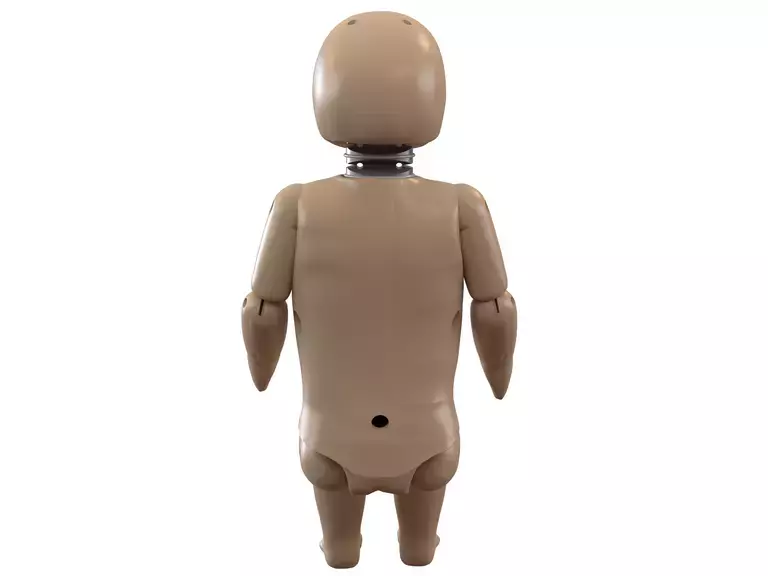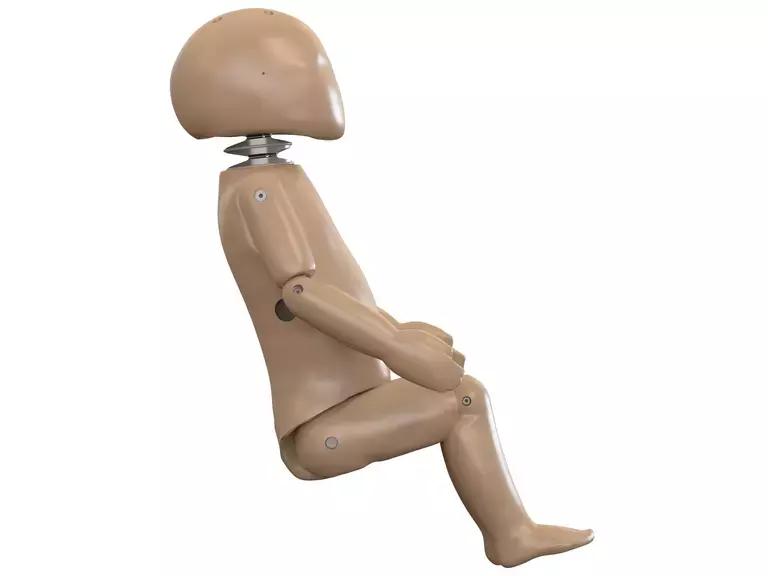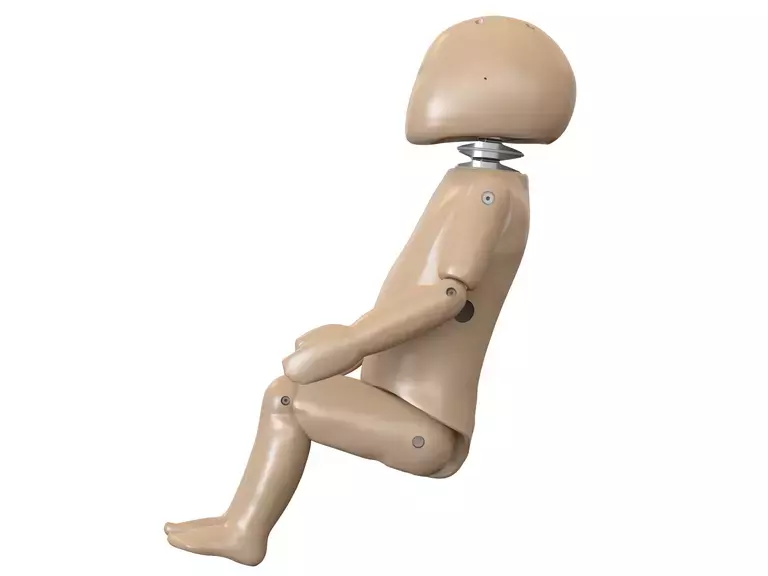 CRABI Series
Standard CRABI 6MO ATD 910420-000
Standard CRABI 12MO ATD 921022-000-H
Standard CRABI 18MO ATD 930910-000
The CRABI (Child Restraint and Airbag Interaction) child ATDs were developed to evaluate small child restraint systems in automotive crash environments, in all directions of impact, with or without air bag interaction. Basic anthropometry for this important test device was taken from the University of Michigan Transportation Research Institute Report 85-23. Weight distribution and scaling methods for the infant were approved by the Society of Automotive Engineers' (SAE) Infant Dummy Task Group.
The Hybrid Ill-like neck and lumbar spine are laterally notched to reduce lateral stiffness. The shoulders have ample support for durability and human-like performance in areas where seatbelt webbing may be placed. In addition, rubber elements are used in each joint to improve biofidelity and to give CRABI infant-like range of motion.
The CRABI ATDs are designed in three sizes; 6MO, 12MO, 18MO.
Specifications

Key Features

One-piece head, urethane flesh over metal insert for accel mounting
Necks & Lumbars composed of butyl elastomer, aluminum plates, with neck cable laterally notched to reduce stiffness
Covered by torso jacket including shoulders, lumbar spine, & pelvic assy
Limbs are elastomer over metal skeleton

Product Specifications

| | | |
| --- | --- | --- |
| CRABI-6MO Sitting Height | 442 mm | 17.4 in |
| CRABI-12MO Sitting Height | 463.3 mm | 18.2 in |
| CRABI-18MO Sitting Height | 505 mm | 19.9 in |
| CRABI-6MO Height | 668 mm | 26.3 in |
| CRABI-12MO Height | 740.4 mm | 29.1 in |
| CRABI-18MO Height | 815 mm | 32.1 in |
| CRABI-6MO Weight | 7.8 kg | 17.2 lb |
| CRABI-12MO Weight | 10 kg | 22 lb |
| CRABI-18MO Weight | 11.2 kg | 24.7 lb |

Applications

For child restraint evaluation in all directions with or without airbags.

Regulations

| WHERE USED | DEFINING REGULATION |
| --- | --- |
| FMVSS 208 | 49 CFR Part 572-Subpart R (12-Month-Old) |
| FMVSS 213 | 49 CFR Part 572-Subpart R (12-Month-Old) |

Instrumentation

| | Linear Accels | Load Cells |
| --- | --- | --- |
| CRABI-6MO | Head, Thorax Pelvis: Axyz | Upper Neck, Lower Neck, Lumbar Fxyz, Mxyz |
| CRABI-12MO | Head, Thorax Pelvis: Axyz | Upper Neck, Lower Neck, Lumbar Fxyz, Mxyz, Shoulder Left Right Fx, Fz, Pubis Fx, Fz |
| CRABI-18MO | Head: Axyz. Az. Az; Thorax, Pelvis: Axyz | Upper Neck, Lower Neck, Lumbar Fxyz, Mxyz, Shoulder Left Right Fx, Fz, Pubis Fx, Fz |

Simulation Models
Resources

Data Sheets & Flyers Product Catalog Manuals & Instructions Technical Bulletins