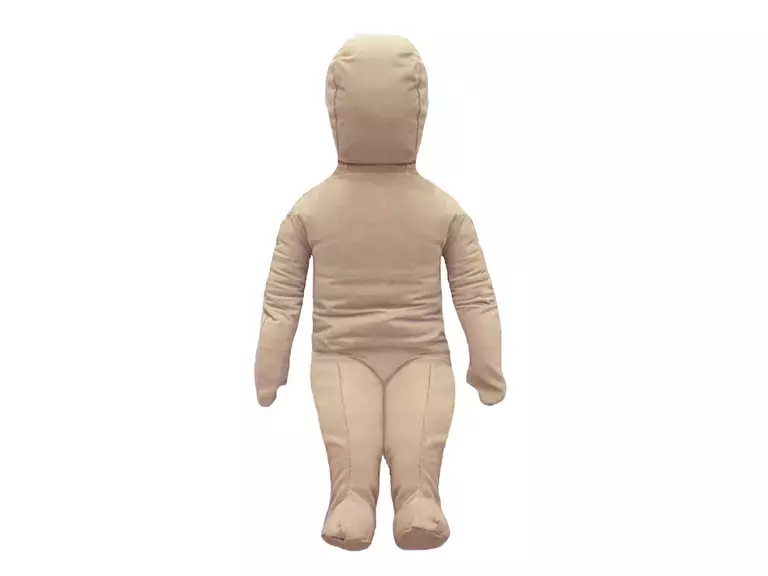 CAMI Mark I & II
Standard Newborn ATD DTL-SA100N
Standard 6MO ATD SA100I001-FT
The CAMI (Civil Aeronautical Medical Institute) Newborn Infant and 6-Month-Old Infant ATDs were developed for the evaluation of child restraint systems as defined in CFR 49, Part 571, Standard No. 213.
The dummies consist of steel and aluminum weights attached to leather skeletons wrapped in layers of foam padding and covered with a stitched cloth outer shell.
The CAMI Dummy is based entirely upon the data package released by the National Highway Traffic Safety Administration. This package Memorandum includes (1) Report AAC-1 19-74-14, Revision 11, prepared by Richard F. Chandler. Protection and Survival Laboratory, Civil Aeromedical Institute, Aeronautical Center, Federal Aviation Administration, Oklahoma City, Oklahoma, (b) A full set of CAMI drawings of this device. The dummy conforms strictly to this data package.
Specifications

Key Features

Nominally 50th percentile infant
Leather skeleton
Ballast blocks attached to the head, upper and lower arms, upper and lower parts of the torso and upper and lower legs to approximate the mass distribution of the corresponding infant
Flesh consists of polyurethane foam padding
Covered in marine canvas

Product Specifications

| | | |
| --- | --- | --- |
| NEWBORN Head Circumference | 35.306 cm | 13.9 in |
| NEWBORN Chest Circumference | 35.179 cm | 13.9 in |
| NEWBORN Standing Height | 50.419 cm | 19.9 in |
| NEWBORN Total Weight | 3.38 kg | 7.5 lb |
| 6-MONTH OLD Head Circumference | 43.18 cm | 17 in |
| 6-MONTH OLD Waist Circumference | 44.45 cm | 17.5 in |
| 6-MONTH OLD Seated Height | 44.45 cm | 17.5 in |
| 6-MONTH OLD Standing Height | 66.68 cm | 26.3 in |
| 6-MONTH OLD Total Weight | 7.89 kg | 17.4 lb |

Applications

Vehicular frontal and side child restraint systems. ASTM Standard Consumer Safety Specifications.

Regulations

| WHERE USED | DEFINING REGULATION |
| --- | --- |
| FMVSS Standard No. 213 | NHTSA 49CFR, Part 572, Subpart D NHTSA 49CFR, Part 572, Subpart K |
| Standard Consumer Safety Specifications | ASTM F2088-15, ASTM F2167-16, ASTM F3084-16 ASTM F404-16, ASTM F833-15, ASTM F2012-16, ASTM F2088-15, ASTM F2167-16, ASTM F2194-16, ASTM F3084-16 |

Simulation Models