A 70-Year Journey for Humanetics
The lineage of the Humanetics organization turns 70 this year. We've made 70 trips around our sun. 280 seasons have passed. More than 25,000 days have been clocked. Over that time, our industry has modeled a grand vision of transportation safety; one in which we've supplied tools necessary to improve the quality of human life. The mere existence of our 70-year portfolio of products has saved many lives. To think, that designers and engineers across the globe know our work and put our products to task every single day in the pursuit of the grand vision is monumental.
Humanetics is a cornerstone of an industry chock full of ingenious and dedicated individuals who have devoted their professional lives to reduce the risks to yours. It has been estimated that automotive crash test dummies have led to approximately 330,000 lives spared and millions of debilitating injuries prevented around the world. The echo of the Humanetics' legacy is tangible every time you step into a vehicle and travel by land or air – and it's a very significant echo.
Seventy years of history certainly paints a detailed picture of where we are today as a company that lends great value to human life. And let us not forget, history is important for us to understand the world around us, both past and present. It helps us with critical thinking, research, and general awareness. So, to honor where we came from and why we're still here, maybe a quick refresh of our history is in order.
Our first glimpse of life began in 1946, when the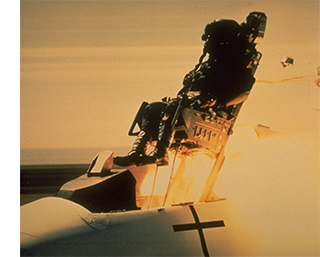 USAF issued a requirement to industry for an improved and accurate manikin for their safety testing. Based on this request, Sierra Engineering of California responded with the Sierra Sam dummy in 1949. But then to improve further, Sam Alderson founded Alderson Research Laboratories (ARL) in Stamford, Connecticut in 1952, and in the same year, delivered its first dummy, the Mark I, to the USAF.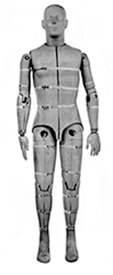 With the appearance of ARL's Mark I and Sierra's Sierra Sam, dummies began their evolution toward the biofidelic, technically sophisticated, versatile models we offer today. Ever since mankind first attempted mechanical transportation, safety was a major concern. Every advancement in vehicle design and operation happened thanks to trial, error and analysis. As vehicles evolved, new challenges appeared. Humanetics and their predecessors developed increasingly sophisticated dummies to provide the information engineers and other scientists needed to solve these problems.
And indeed, the Humanetics legacy has a long track record of solving difficult problems. The companies that became Humanetics were involved in almost every aspect of post-war development and the use of test dummies we now classify as anthropomorphic test devices (ATDs). ATDs were eventually key to automotive safety, but they were also prominent in testing critical elements of the most daring feat in the history of human exploration. NASA's Project Apollo used ARL dummies to test the safe landing of the Command Module (earth return capsule) and the ejection systems for Lunar Landing Research Vehicles (LLRV).
Our mission remains the same. We continue to work with partners all over the globe to explore the wellbeing of critical environments and infrastructure.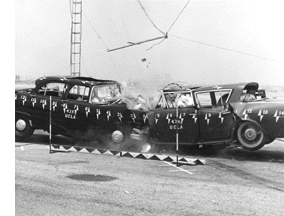 The Humanetics name itself would soon pop into existence after Sam Alderson sold ARL and moved to California in 1972 to establish Humanoid Systems, which he later renamed Humanetics. In 1987, British company First Safety purchased Humanetics and then ARL a year later, creating a new entity called First Technology Safety Systems (FTSS). Eleven years later, FTSS purchased the dummy development and production portion of TNO, Europe's prominent dummy manufacturer at that time. FTSS thus became a global company capable of producing highly sophisticated ATDs and now computer simulation models, which grew in importance in the 1990s as automotive and aerospace companies moved from real world to virtual world design and testing. The virtual world of crash testing with its virtual test dummies riding along in its virtual vehicles has been rapidly maturing to lockstep the physical with the digital. It's part of the evolution; part of the continuous improvement of evaluating safety that will seamlessly blend the worlds together and meet the latest challenges head on.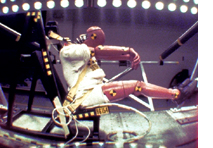 In the meantime, on the load cell development side of the coin, Robert A. Denton began making sensors in Detroit in 1974 to expand the capabilities of the crash test dummy and make accurate data collection even more accessible to the vehicle safety industry. Denton eventually purchased the Ohio dummy maker ASTC (founded as Vector Research in 1991) in 2000 and created Denton ATD.
And finally, in 2010 our own CEO Christopher O'Connor, at the time leading FTSS, facilitated a merger with Denton ATD to ensure the long-term survival of crash test dummy expertise. He also renamed the group Humanetics Innovative Solutions, Inc., appreciating the heritage of one of the original dummy companies.
Today, in 2022, Humanetics is part of a group of synergistic companies that all tie together to advance the technology of safety. From fiber optics, digital ergonomics and body scanning, laser precision manufacturing, intricate sensor design, and to the exploding Active Safety sphere with Advanced Driver Assistance Systems. It's been an exciting and rewarding 70-year journey for all of us.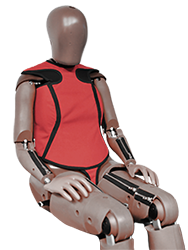 Our mission remains the same. We continue to work with partners all over the globe to explore the wellbeing of critical environments and infrastructure. With new technology in the forefront, we're on a path of breakthroughs that will create ever-more sophisticated tools that push the boundaries of what we can achieve. And that also includes providing more access to the correct tools our industry desperately requires. We're now on an innovative horizon of gender equity, where our appropriately designed female test dummy, the THOR-5F, can give us cutting-edge insights into how half of our society fares in vehicle crashes.
70 years can sure be a long time in respect to our personal life journey. At 70, Benjamin Franklin was helping to draft the U.S. Constitution and Winston Churchill was 70 when he led the United Kingdom to victory in World War II. We should never forget the work in vehicle safety that has been accomplished in the last seventy years has saved countless lives, and the people contributing to this amazing technology in both the physical and virtual worlds have been remarkable. Here's to the next mind-blowing and astounding seventy years!