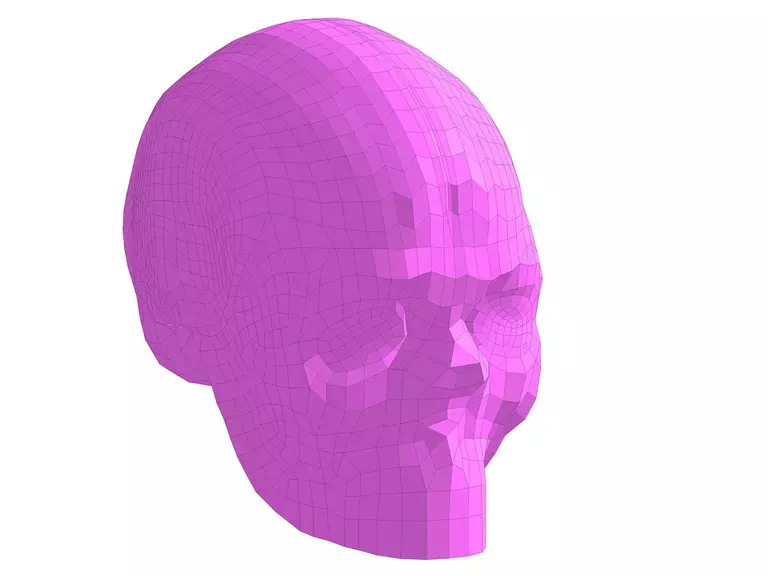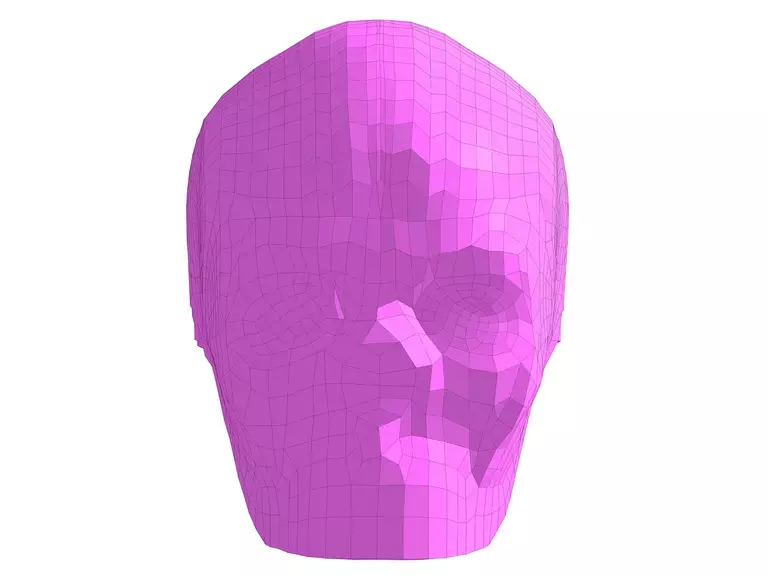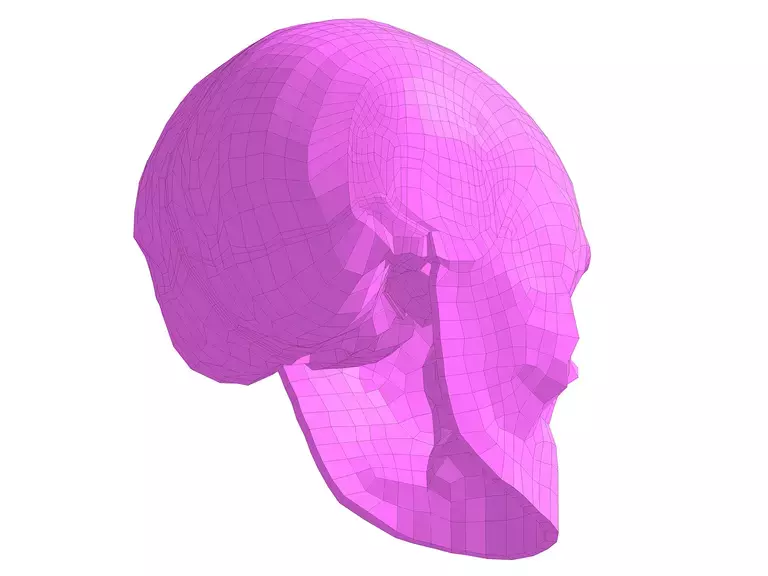 SUFEHM FE
The Strasbourg University Finite Element Head Model (SUFEHM) is a state-of-the-art detailed human head model developed by Strasbourg University for use in predicting head injury. SUFEHM is primarily used in automotive applications for assessing vehicle crash safety but has also been used in other applications, such as helmet design for motorcycle, bicycle, or military applications. This advanced head model has been validated to numerous impact conditions and is fitted with relevant tissue level brain injury criteria. It is recognized as one of the best models of the human head in the world.
Humanetics offers the SUFEHM head model attached to a finite element dummy model and SUFEHM Box. The head model is especially useful for assessing conditions where there is the potential for hard contact of the head with its surroundings.
SUFEHM Box is a desktop application that runs the model internally based on linear and rotational head accelerations or velocities that are input from the user. In addition to computing traditional head injury criteria such as HIC and BrIC, SUFEHM Box will internally run the finite element head model and process the results to calculate an advanced head injury criterion. Since the head model is run within SUFEHM Box no user finite element experience is required. SUFEHM Box is being monitored by Euro NCAP to evaluate for future use in the assessment protocol. SUFEHM Box runs locally and has a simple, easy to use graphical interface.
Specifications

Solver Code & Version Number

| MODEL | ANSYS LS-DYNA | PAM CRASH | RADIOSS | ABAQUS |
| --- | --- | --- | --- | --- |
| SUFEHM Head Model FE | 2.0 | NA | NA | NA |

Regulations

Licensing

1. Annual License

The model is leased for a period of one year and renewable on its anniversary of purchase. Model support and upgrades are provided during this period.

2. Paid-up License

The model is purchased on a perpetual license basis. Model support and upgrades are provided at no additional cost for the first year of licensing. Thereafter, additional annual model maintenance, enhancement, and support services may be purchased for the second and subsequent years of licensing.

3. Licensing Procedure

Licenses are provided on a per-site basis and require the execution of a model license agreement between the customer and Humanetics. Usage of the model is limited to the site listed on the license agreement. For full terms and conditions please request a sample license agreement for your review.

 4. Humanetics Finite Element Dummy Model Distributors

The Humanetics Finite Element dummy models are distributed worldwide through a network of distributors associated with the solver code and experts in the field of occupant safety simulation, who provide local customer support, training, and arrange licensing.

Distributors

SOLVER
REGION
DISTRIBUTOR
CONTACT
PHONE
EMAIL
ANSYS LS-DYNA
USA, Europe & Korea
Humanetics
Pankaj Deshmukh
+1 734 233 5963
<a href="mailto:[email protected]">Email</a>
Mainland China and Taiwan
Humanetics China
Jie Han
+86 21 60901300
<a href="mailto:[email protected]">Email</a>
India, Malaysia, Australia, Vietnam
Humanetics India
Pradeep Mohan
+91 80 6814 6430
<a href="mailto:[email protected]">Email</a>
UK
Humanetics Europe
Robert Kant
+31 183 769005
<a href="mailto:[email protected]">Email</a>
Japan
Humanetics Japan
Takahiko Sugiyama
+81 70 3852 7004
<a href="mailto:[email protected]">Email</a>
CAD

Humanetics offers surfaced 3D CAD models for use in vehicle packaging studies using major common CAD systems. The models are available in IGES Format for import to CATIA, Pro/Engineer, IDEAS, Unigraphics, PDGS and other IGES compatible systems. The models are derived from the Humanetics family of finite element dummy models and 3-D dummy design geometry. CAD models are only offered as a paid-up license. 

 

| | |
| --- | --- |
| Model Name | Detailed |
| THOR 50M | X |
| Hybrid III 5th | X |
| Hybrid III 50th | X |
| Hybrid III 95th | X |
| WSID 50th | X |
| EuroSID-1 |   |
| ES2 | X |
| ES2re | X |
| US-SID |   |
| SID2s SBL "D" | X |
| Hybrid III 3YO | X |
| Hybrid III 6YO | X |
| Hybrid III 10YO |   |
| Q0 | X |
| Q1 | X |
| Q1.5 | X |
| Q3 | X |
| Q10 Euro NCAP 2020 | X |
| Q10 Euro NCAP 2020 SK | X |
| P3 | X |
| Free Motion Headform | X |
| Ejection Mitigation Headform | X |
| Flex-PLI Regulated | X |
| Bodyblock-SAE J944A | X |

 

In case the model you need is not listed, please contact CAE Department for our development and release schedule.