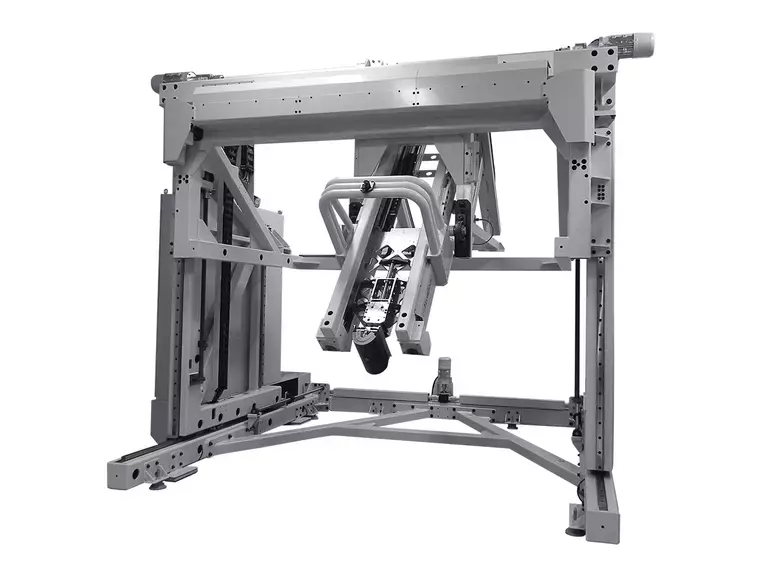 Universal M with E-Liner Ped Leg Launcher
The E-Liner system is the only solution capable of meeting your test speed requirements with an accuracy in the hundredths of kph – without preliminary tests!
The PED LEG acceleration device mounts directly to the mobile Universal M positioning unit and serves to launch the following impactors: upper/lower legforms, Flex PLI GTR (with UBM), PDI II, and aPLI. Additional measures such as sensor tests with fire and no-fire impactors, bodyblock tests, guided 6,8kg head impact tests, and ECE-R12 pendulum tests are also possible.
Specifications

Key Features

No preliminary tests needed
Jerk-free acceleration
Highest precision and repeatability
Virtually maintenance-free due to the frictionless drive unit
Mobile due to air pads underneath the positioning unit
Intuitive and user-friendly operating software and interface

Product Specifications

| | | |
| --- | --- | --- |
| STANDARD DIMENSIONS WITH LAUNCHER | 3600.0 x 4270.0 x 3700.0 mm | 141.7 x 168.1 x 145.7 in |
| SPACE REQUIREMENT | 12.0 x 12.0 x 4.0 m | 472.4 x 472.4 x 157.5 in |

 

E-LINER UNIVERSAL M POSITIONING KIT

---

Connection Power: 3x400 Volt AC+N+PE, 50-60 Hz, 63 amperes & the phase voltage may differ by max. 3%

Compressed Air Connection: Min. 7 bar

Drive: Electrically driven trapezoidal and recirculating ball spindles

Traverse Paths (x/y/z – Vehicle Coordinate System): Appr. 1450/1800/1400 mm

Vertical Angle: +7° to -50°

Positioning Accuracy: < 1mm

 

E-LINER PED LEG MODULE

---

Power: 100% electrically driven

Speed: Up to 55 kph

Launcher Speed Accuracy: +/- 0,1 kph

Launcher Repeatability: /- 0,1 kph

Targeting Precision: Within a radius of 5 mm

Max. Impactor Mass: 20,0 kg at 55 kph and +5° vertical

Operating Temperature: 0° - +40° C

User Interface: Intuitive and user-friendly

Software: Siemens WinCC

 

ROOM REQUIREMENTS

---

Floor Requirements (Air Pad System): Acc. to table 3, group 3 in "DIN 18202: Tolerances in building constructions"

Regulations

EU 78/2009, 631/2009, Euro NCAP, Trias 63, Japan NCAP, MLIT 619 and GTR.
Resources

Product Catalog