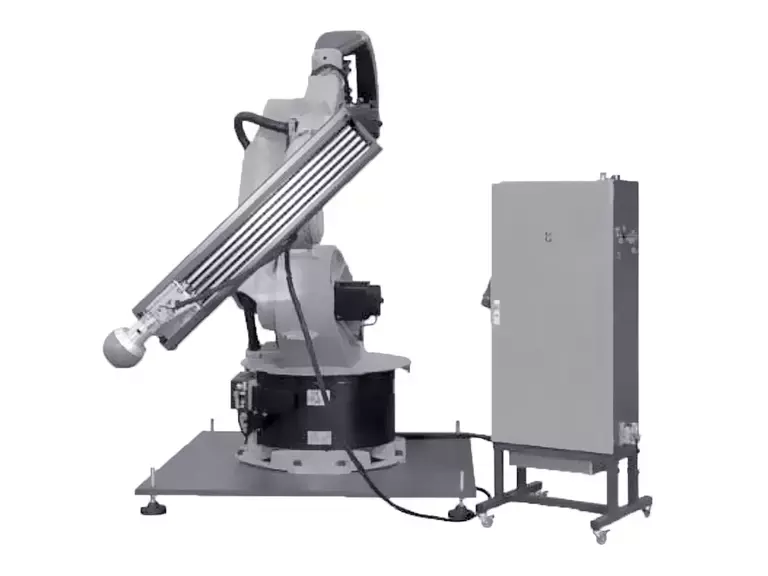 Robot with E-Liner Ped Head Launcher
The E-Liner system is the only solution capable of meeting your test speed requirements with an accuracy in the hundredths of kph – without preliminary tests!
The E-Liner PED HEAD can either be mounted on an industrial robot (6- or 7-axis) or lower down on the E-Liner UNIVERSAL M with PED LEG Module. It offers the highest level of precision and repeatability for active dynamic pedestrian protection studies such as airbag tests and active hood tests.
Specifications

Key Features

No preliminary tests needed
Virtually maintenance-free due to the frictionless drive unit
Ideally suited for temperature range of 0°- +60°C hood tests)
Intuitive and user-friendly operating software and interface

Product Specifications

| | | |
| --- | --- | --- |
| DIMENSIONS | 1165.0 x 226.0 x 352.0 mm | 45.9 x 8.9 x 13.9 in |
| Weight | 115 kg | 253.5 lb |

 

LAUNCHING UNIT

---

Power: 100% electrically driven

Speed: Up to 42 kph (optional: 50 kph)

Launcher Speed Accuracy: +/- 0,1 kph

Launcher Repeatability: +/- 0,1 kph

Targeting Precision: Within a radius of 5 mm

Max. Impactor Mass at 42 kph: 4,5 kg at – 0° vertical

Power Supply Cabinet: 3x400 Volt AC+N+PE, 50-60 Hz, 32 amperes & the phase voltage may differ by max. 3%

 

ROBOT AS POSITIONING UNIT

---

Industrial Robot: 6-axes or 7-axes industrial robot with 120 kg min. payload

Recommended Type: KUKA KR210 R3100 ultra

Power: 3x 400 V +N+PE, 1x 32 A

Mounting on Robot: Mounted on robot using linear bearings

Advantage: Two separate systems for legform & headform tests; can be operated independently  

 

CONTROL

---

Software: Siemens WinCC

Hardware: PC, Siemens S7

Operating Interface: Intuitive & user-friendly

 

OPTIONS

---

Tests with the 3.5 kg small adult headform impactor
Tests with the 4.5 kg adult headform impactor

Regulations
Resources

Product Catalog