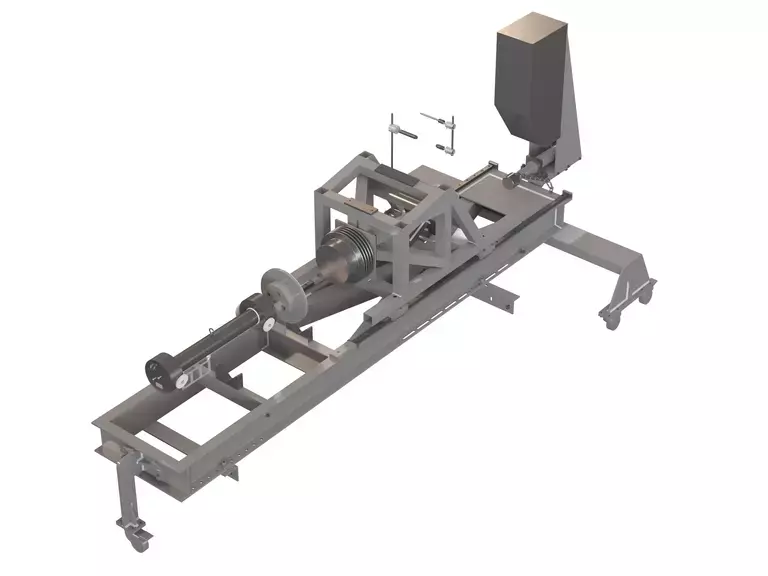 BioRID-II Mini Sled System
The Humanetics BioRID-II Mini Sled System is a complete fixture for certifying the Biofidelic Rear Impact Dummy (BioRID-II). The certification test is performed with the upper torso and head (w/o lower torso and arms) attached to a sliding sled fixture that is impacted from the rear for spine flexion and extension.
The mini sled system uses a steel constructed sled coupled to a bearing block and "V" rail guide system. The guide system keeps the sled from jumping up and moving sideways during impact. This increases the repeatability of the results and reduces test-to-test variation. The torso and head assembly of the BioRID-II dummy is mounted to the sled and impacted from the rear on the Thorax Impact Test Stand.
Specifications

Key Features

Steel sled coupled to a bearing block and "V" rail guide system
Guide system keeps the sled from moving up and sideways during impact
Reusable foam energy transfer device
Foam dummy stop
Probe face assembly
Sled weight package
Jacket and pelvis test adapters

Product Specifications

| | | |
| --- | --- | --- |
| OVERALL DIMENSIONS | 3.1 x 1.4 x 1.4 m | 122.8 x 56.3 x 53.9 in |
| TOTAL WEIGHT | 544.3 kg | 1200 lb |
| FOOTPRINT/WORK AREA | 2.8 x 7.0 m | 108.3 x 275.6 in |

Applications

BioRID-II Rear Impact Dummy

Regulations

| WHERE USED | DEFINING REGULATION |
| --- | --- |
| BioRID II Dummy Certification Manual | GTR7 (Pending) |
Resources

Product Catalog