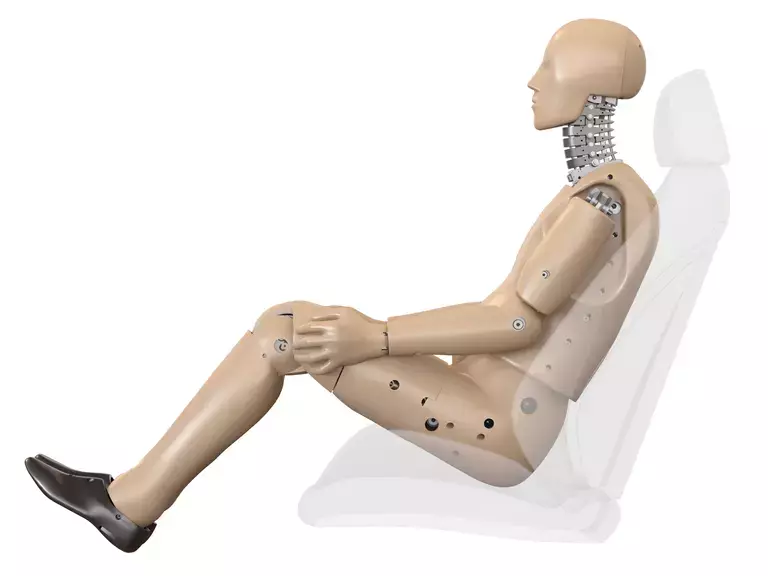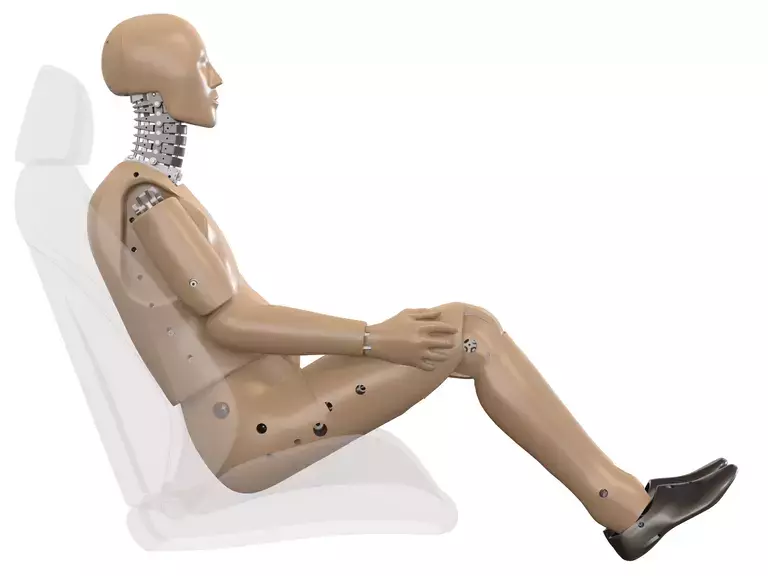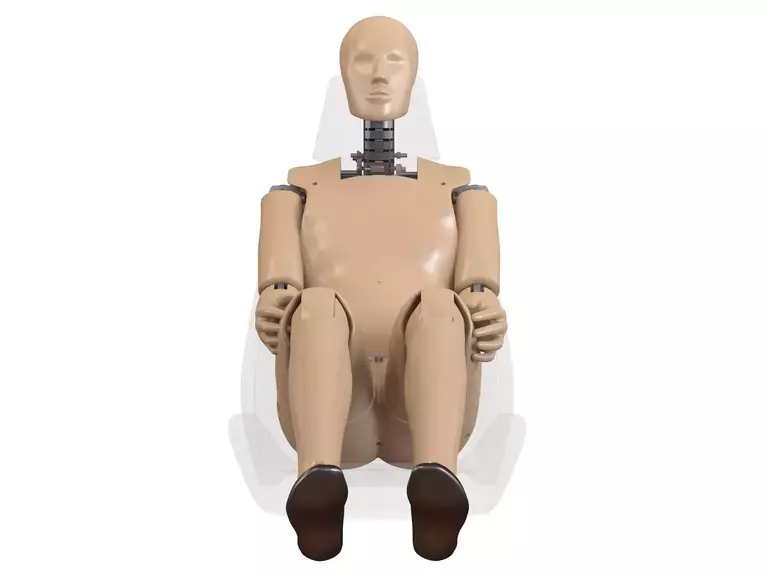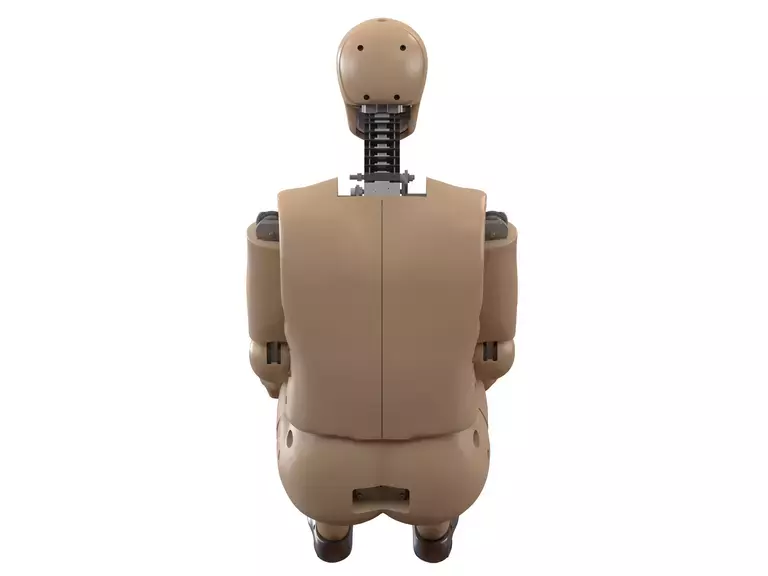 BioRID-II
Humanetics BioRID-II was designed to promote the development of more effective head and neck protection during rear impact collisions. Prior dummy models indicated a severe lack of biofidelity, and so the BioRID was engineered to demonstrate a more natural neck movement consistent with whiplash from rear impact force.
The BioRID-II has been validated against low-speed volunteer data. It was developed by Chalmers University and Denton ATD (now part of Humanetics) and is produced by Humanetics.
User and certification instructions for the BioRID-II are available in United Nations Mutual Resolution No. 1 -  Addendum 1 - Specifications for the Construction, Preparation and Certification of the 50th percentile male Biofidelic Rear Impact (BioRID-II UN) anthropomorphic test device.
Specifications

Key Features

Head: Modified Hybrid III. Chin modified to clear cervical vertebrae. Allows mounting leveling tool
Neck, Thorax, and Abdomen: The BioRID-II's distinguishing feature is its vertebral column, which consists of 24 separate vertebrae: five lumbar, 12 thoracic, and seven cervical. Washers, urethane bumpers, and muscle-simulating springs provide biofidelic performance. The vertebral column is installed inside a silicone jacket featuring pin linkages to the vertebrae and a water filled bladder in the abdominal region.
Pelvis: The Sacrum-to-L5 Interface Plate mates the spine assembly to the modified Hybrid III pelvis, which features a lower cut iliac and larger leg opening.
Legs and Arms: The legs and arms of the dummy are standard Hybrid III 50th, with the option to include any of the sensors available for these appendages. Humanetics has developed a modified upper leg to accommodate a DTS G5 unit for an iDummy version of the BioRID-II, which is also available.

Product Specifications

| | | |
| --- | --- | --- |
| OVERALL DIMENSIONS | 780.0 x 466.0 x 1312.0 mm | 30.7 x 18.3 x 51.7 in |
| TOTAL WEIGHT | 77.6 kg | 171.1 lb |
| FOOTPRINT/WORK AREA | 780.0 x 466.0 mm | 30.7 x 18.3 in |
| SEATED HEIGHT | 0.0 x 0.0 x 870.0 mm | 0.0 x 0.0 x 34.3 in |

Applications

Vehicular rear impact testing.

Regulations

| WHERE USED | DEFINING REGULATION |
| --- | --- |
| ANCAP | Whiplash |
| C-NCAP | Whiplash |
| Euro NCAP | Whiplash |
| Global Technical Regulations | GTR 7 (Head restraint) |
| IIHS | Seat/Head Restraints Dynamic |
| JNCAP | Whiplash |
| KNCAP | Whiplash |

The dummy is being used for research and standards development. It may be included in UNECE regulation 17 in the future.

Instrumentation

| LINEAR ACCELEROMETERS | LOAD CELLS | LOAD CELLS | ANGULAR RATE |
| --- | --- | --- | --- |
| Head Axyz, Az for angular acceleration | Skull Cap Fxyz | T1 Thoracic Vertebrae Fxz, My or Fxy, My | For calibration |
| C4 Bi-axial accel pack Axz (not for Sled or vehicle test) | Spring Tube Posterior Fz | L5 Lumbar Fxyz, Mxyz | |
| Neck T1 Bi-axial pack Axz | Spring Tube Anterior Fz | | |
| T8 Bi-axial Pack Axz | Upper Neck Fxyz, Mxyz | | |
| L1 Bi-axial Pack Axz | | | |
| Pelvis Axyz | | | |

Simulation Models
Resources

Data Sheets & Flyers Product Catalog Manuals & Instructions Technical Bulletins