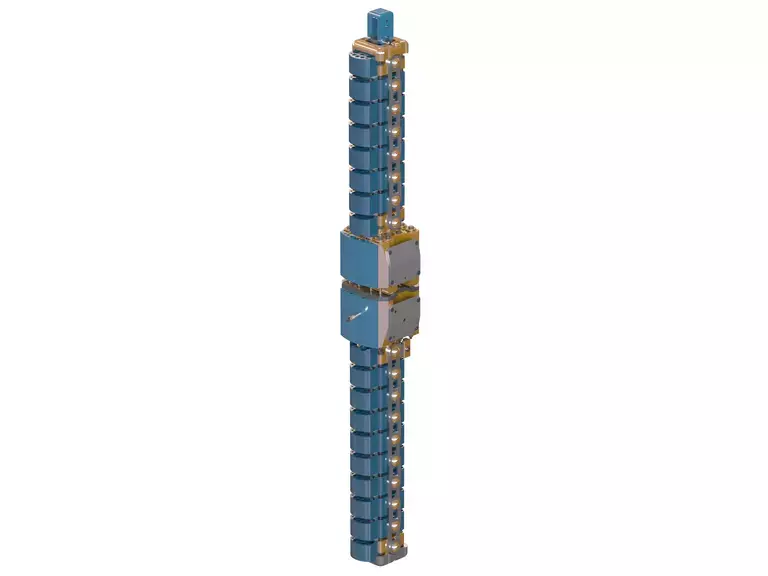 Flex-PLI Legform
Standard Legform 133-5000
The Flex-PLI (Flexible Pedestrian Legform Impactor) simulates the flexible nature of the human leg bones. The impactor represents a 50th percentile male leg which is struck from the right side. It is fired from a linear guide into the bumper of a static vehicle at 40 km/hr for the assessment of pedestrian lower leg and knee injuries.
The tibia and femur are designed as a segmented assembly mainly made from a high strength plastic with a fiber reinforced bone on the inside. The knee is a two-part design flexible at the knee joint which uses springs and stainless steel wires to simulate ligaments. The flesh is comprised of a combination of rubber and Neoprene foam sheets.
Strain gauges are bonded to the bones to measure bending moments, each gauge channel set is calibrated individually to establish gauge sensitivity. The bone assemblies are also certified as sub-assemblies to biomechanical corridors.
Specifications

Key Features

Standard leg instrumentation has 12 channels
Full bridge strain gauge configuration
On board DAS is housed in the sides of the knee
Bone bending limited at the injury threshold to prevent bones being over stressed
Rubber in the upper part of the leg provides humanlike flesh to maintain mass distribution

Product Specifications

| | | |
| --- | --- | --- |
| LEG LENGTH | 928 mm | 36.5 in |
| FEMUR LENGTH TO KNEE JOINT | 433 mm | 17 in |
| TIBIA LENGTH TO KNEE JOINT | 495 mm | 19.5 in |
| KNEE WIDTH | 118 mm | 4.6 in |
| LEG DEPTH | 90.5 mm | 3.6 in |
| FEMUR LENGTH FROM TOP OF KNEE ASSY | 339 mm | 13.3 in |
| TIBIA LENGTH FROM BOTTOM OF KNEE ASSY | 404 mm | 15.9 in |
| TOTAL WEIGHT | 12.95 kg | 28.5 lb |

Applications

Vehicular pedestrian lower leg and knee testing.

Regulations

| WHERE USED | DEFINING REGULATION |
| --- | --- |
| Latin NCAP | Latin NCAP Pedestrian Protection 2020 Assessment Protocol v1.1.1 |
| US NCAP | Proposed US NCAP |

Instrumentation

*Optional Instrumentation

| LINEAR ACCELEROMETERS | ANGULAR VELOCITY | LOAD CELLS | PRESSURE SENSORS | DISPLACEMENT | ARS SENSOR |
| --- | --- | --- | --- | --- | --- |
| Lower Knee, Ay | | Femur Bone, Mx, 3 Ch. | | Knee, D, MCL Ligament D, ACL Ligament D, PCL Ligament D, LCL Ligament | |
| | | Tibia Bone, Mx, 4 Ch. | | | |
| *Upper Knee, Ax, Ay, Az | | | | | *Upper Knee, wx, wy, wz |
| *Upper Knee, Ax, Ay, Az | | | | | *Lower Knee wx, wy, wz |
| *Lower Knee Ax, Ay, Az | | | | | |
| *Lower Leg Each Segment Ay (8 positions) | | | | | |
| *Bottom of Leg Ax, Ay, Az | | | | | |

Simulation Models
Resources

Data Sheets & Flyers Manuals & Instructions