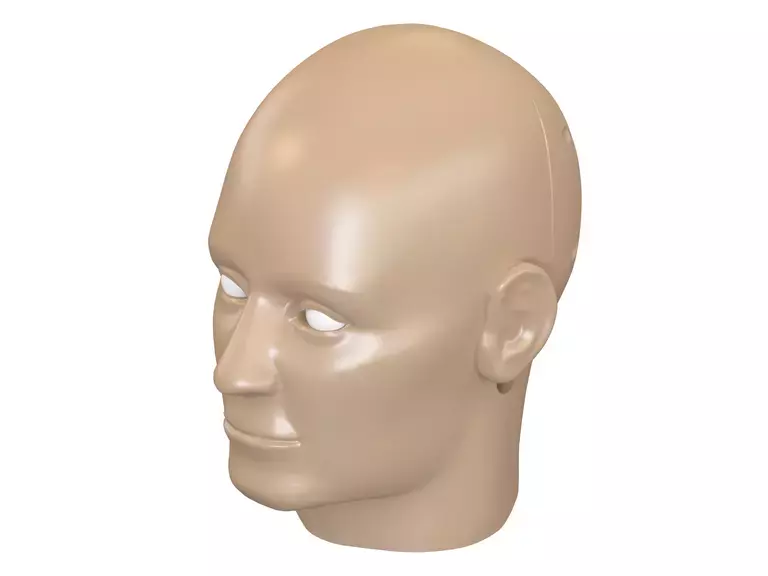 FOCUS-50M Headform
Standard Headform 575-1000
The Humanetics FOCUS headform is a test platform for evaluating eye and facial devices. Its purpose is to assess injury mitigation and is comprised of a physical headform capable of measuring facial and eye impact loads. The headform is used to test and evaluate various protective devices and other equipment under impact events.
The FOCUS headform was designed as a modular system with the ability to select the instrumentation applicable for a variety of test scenarios. The headform features 8 discrete facial bones, 2 synthetic eye modules, and up to 11 available load cells, and is compatible with standard Hybrid-III necks.
The FOCUS-50M is a 50th percentile male sized version with the bone and skin biofidelity of a 50th percentile male head. The headform supplies data and results for all anterior and lateral orientations for the bone and skin testing.
Specifications

Key Features

Modular system
Eight discrete facial bones
Two synthetic eye modules
Synthetic extraocular tissue
Simulated orbit

Applications

Compatible with the standard Hybrid III 50th neck

Regulations

Instrumentation

Zygoma load cell, Eye load cell, Frontal load cell
Nasal load cell, Maxilla load cell, Mandible load cell
Upper neck load cell, Triaxial accelerometer, Angular rate sensor

Simulation Models
Resources

Product Catalog Manuals & Instructions