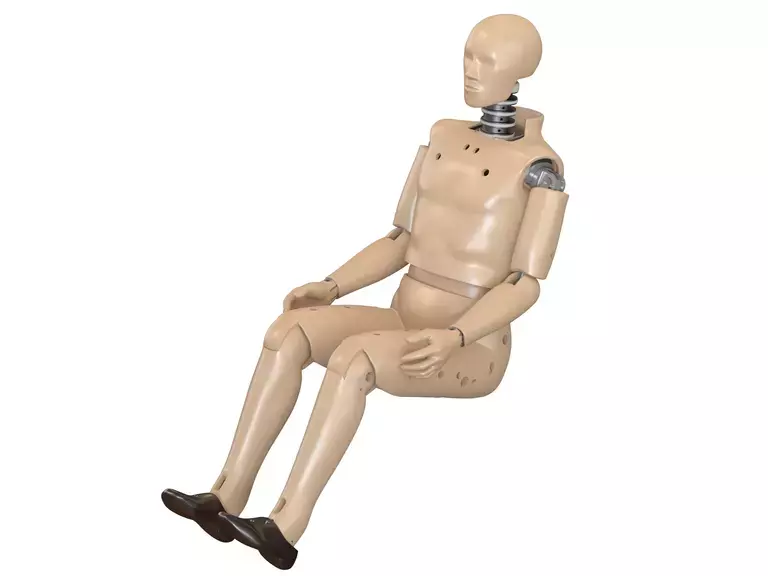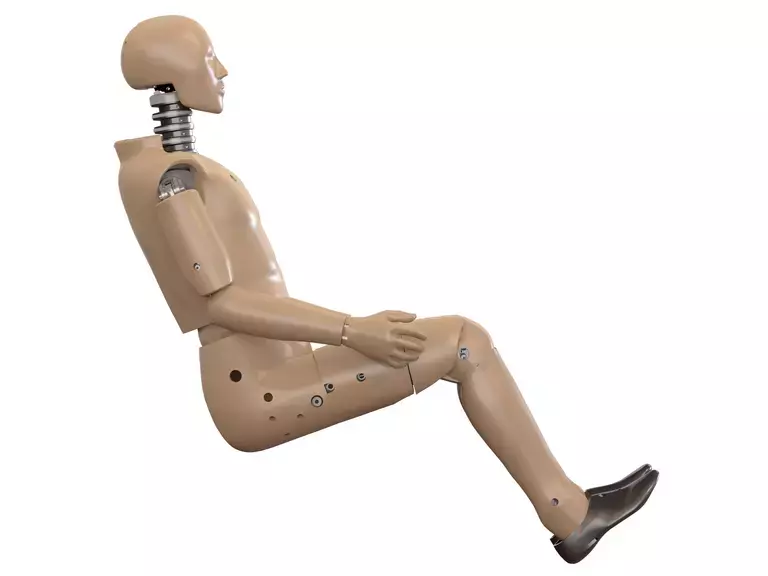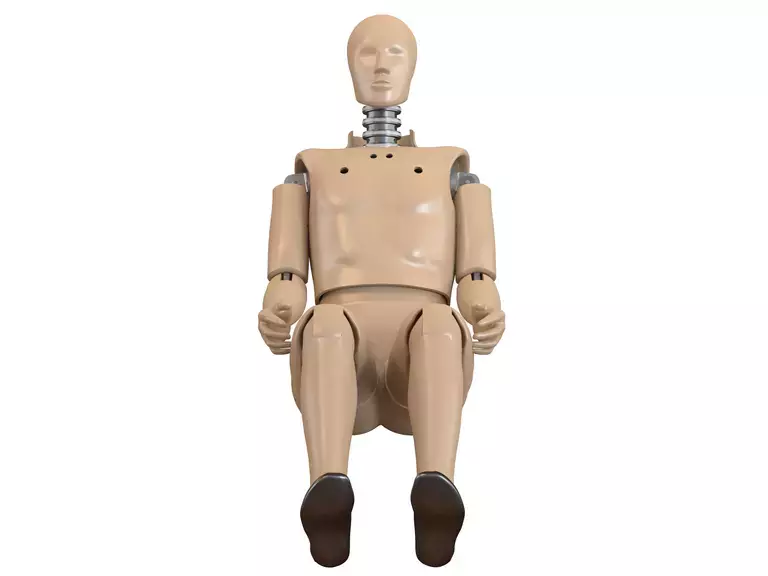 FAA Hybrid III 50M
Standard ATD FAA-H3-M001-H
Bronze Clavicle ATD FAA-H3-M001-MB-H
The FAA HIII-50M is a Hybrid III 50th percentile male automotive crash test dummy modified for Federal Aviation mandated crashworthiness safety testing for general and transport category aircraft and general and transport category rotorcraft.
Aircraft crashworthiness safety testing was originally done with Hybrid II 50th percentile dummies.
The FAA HIII-50M dummy was developed by a Humanetics predecessor Denton ATD.
As compared to the Hybrid II dummy, it incorporates the Hybrid III Head, Neck, rib cage most upper torso components, arms and legs.
The chest flesh, lower torso and upper legs are modified to allow abdominal compression and lumbar flexion tests used with the Hybrid II to insure similar torso bending over the lap belt and measurement of lumbar compressive force required by the aircraft safety standard.
Dummy advantages include improved head, neck, chest and knee biofidelity and use of more commonly manufactured and advanced design Hybrid III parts.
Reference SAE paper 1999-01-1609 "A Lumbar Spine Modification to the Hybrid III ATD for Aircraft Seat Tests".
*U.S. Code of Federal Regulations Title 14 Aerospace-emergency land dynamic conditions.
Specifications

Key Features

The head, neck, arms, and lower legs are Hybrid III 50th male design (78051-218-H).
The thorax has a slightly modified chest jacket.
The lower torso features a Hybrid II molded abdomen and a Hybrid II straight cylindrical lumbar spine with a modified upper bracket to attach to the Hybrid III spine box. The pelvis is a modified Hybrid III. The lumbar-to-pelvic bracket is modified to attach to the Hybrid III pelvis.

Product Specifications

| | | |
| --- | --- | --- |
| OVERALL DIMENSIONS | 721.4 x 423.9 x 1701.8 mm | 28.4 x 16.7 x 67.0 in |
| TOTAL WEIGHT | 75.61 kg | 166.7 lb |
| FOOTPRINT/WORK AREA | 721.4 x 423.9 mm | 28.4 x 16.7 in |
| SEATED HEIGHT | 0.0 x 0.0 x 658.2 mm | 0.0 x 0.0 x 25.9 in |

Applications

Evaluation of aircraft seating systems for crashworthiness in dynamic landing conditions.

Regulations

| WHERE USED | DEFINING REGULATION |
| --- | --- |
| 14CFR "Aerospace" Part 23.562, normal category aircraft emergency landing dynamic conditions | FAA AIR-100-3-3-2000 and SAE Technical Paper 1999-01-1609 |
| 14CFR "Aerospace" Part 25.562, transport category aircraft emergency landing dynamic conditions | FAA AIR-100-3-3-2000 and SAE Technical Paper 1999-01-1609 |
| 14CFR "Aerospace" Part 27.562, 29.562 normal category rotorcraft.emergency landing dynamic conditions | FAA AIR-100-3-3-2000 and SAE Technical Paper 1999-01-1609 |
| 14CFR "Aerospace" Part 29.562, transport category rotorcraft emergency landing dynamic conditions | FAA AIR-100-3-3-2000 and SAE Technical Paper 1999-01-1609 |

Instrumentation

| LINEAR ACCELEROMETERS | LOAD CELLS | LOAD CELLS | DISPLACEMENT TRANSDUCERS |
| --- | --- | --- | --- |
| Head, Upper Torso, Lower Torso Axyz | Upper Neck, Lower Neck, Thoracic Spine, Lumbar: Fxyz, Mxyz | Upper Tibia: Fxyz, Mxy; Lower Tibia: Fxyz Mxy | Thorax Dx |
| | Left and Right Leg (Femur) Fxyz, Mxyz, Fz | Ankle Fxyz, Mxy; Anterior Tibia Fz | Knee Shear Left and Right Dx |
| | Knee Clevis Left and Right Fz, Fz | | |

Simulation Models
Resources

Product Catalog Manuals & Instructions Technical Bulletins