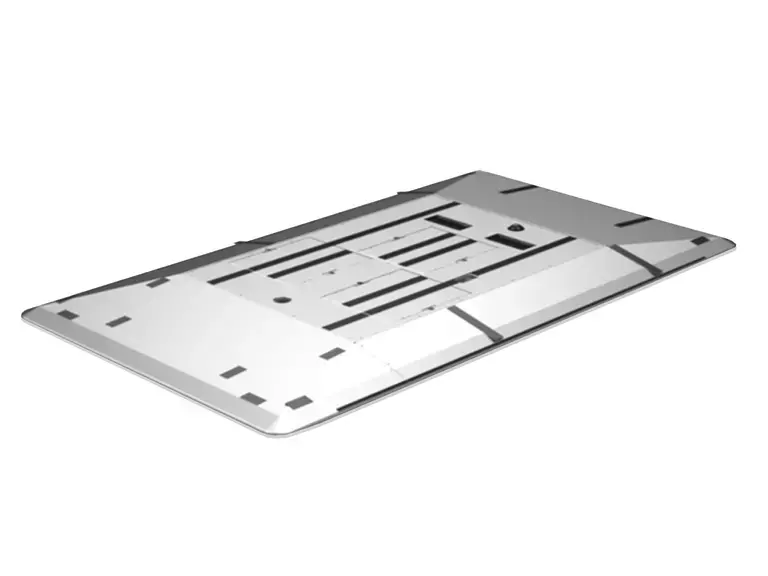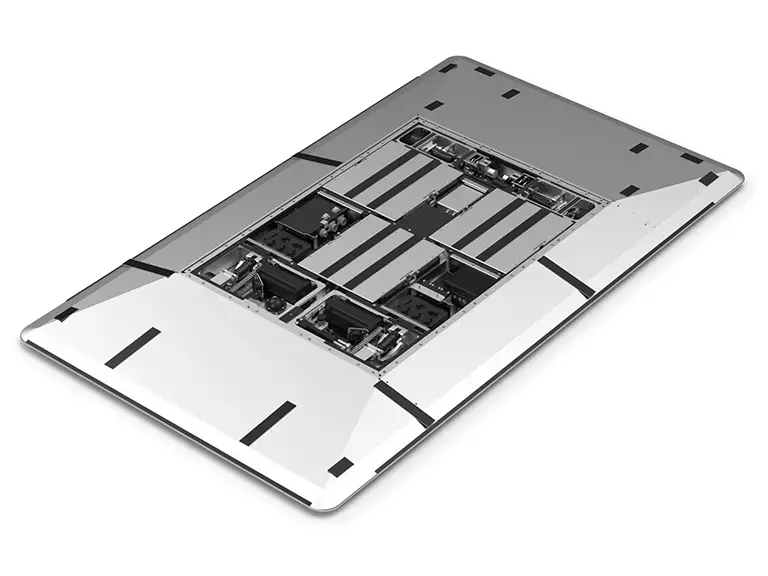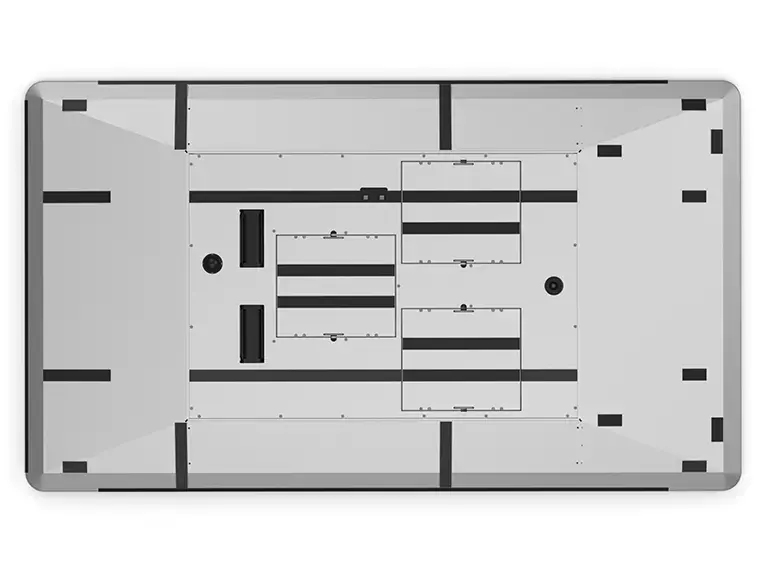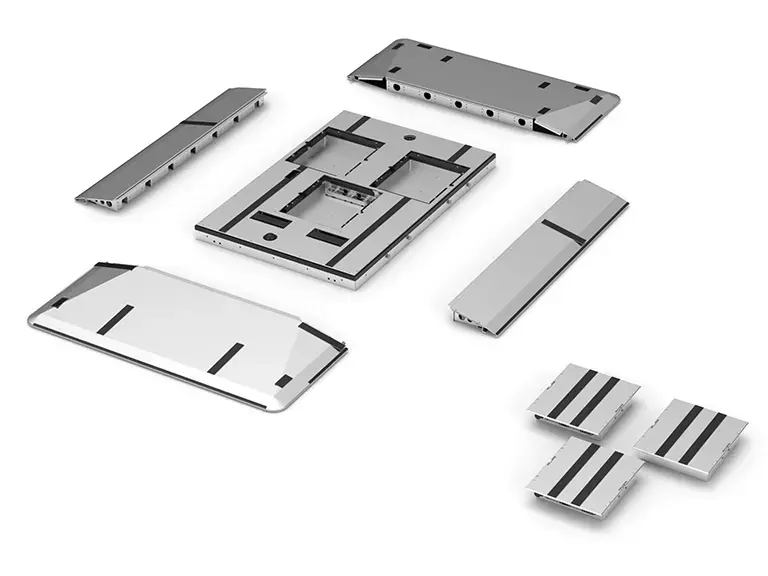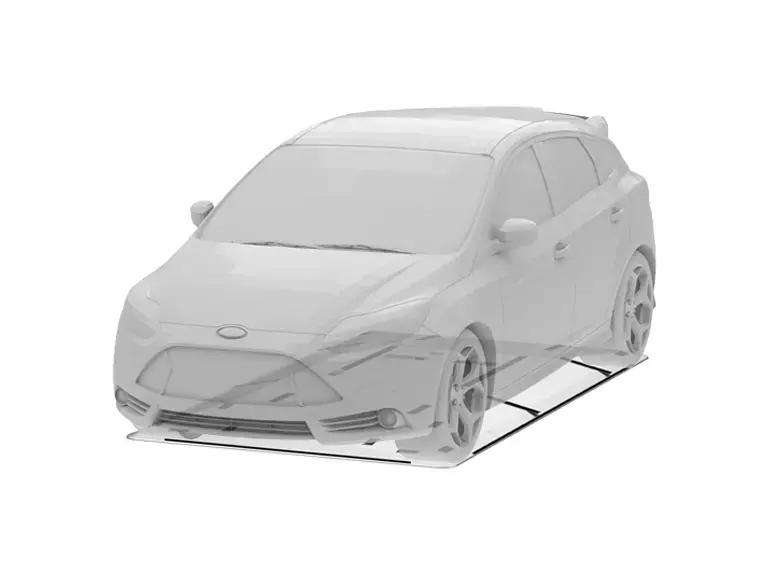 UFOpro (Ultra-Flat Overrunable Robot Platform)
Our Ultra-Flat Overrunable (UFO) robot platform delivers a versatile and low-maintenance solution for your active safety testing needs. The UFO is remotely controlled with a Global Vehicle Target (GVT) or vulnerable road user (VRU) dummy attached to the top. Its stability and low profile allow you to run fully autonomous testing on the latest collision mitigation features with maximum accuracy and repeatability without risking damage to the test vehicles or driver.
The Standard UFOpro is designed for Euro NCAP ADAS testing and has a great degree of flexibility with optional add-ons such as the Arrow Ramp, which can be swapped with the standard front ramp for side impact tests, and the VRU Kit, a mounting platform for linear trajectory tests with pedestrian and bicycle dummies.
Specifications

Key Features

Low overrun height of 98mm
Single central cover plate can be easily removed for access to all internal components
Anti-lock braking system (ABS) for increased performance and longer tire life available
Swappable batteries allow continuous testing with no downtime for recharge
Removable ramps simplify transportation and storage
100% waterproof system lets you run tests in adverse weather conditions 
UFO-Base software enables one operator to monitor up to nine UFOs simultaneously
Available for purchase or rental
Overrunable by passenger and commercial vehicles
Easy to transport
Ready for on-board V2X hardware

Product Specifications

|  | METRIC | IMPERIAL |
| --- | --- | --- |
| <strong>Overall Dimensions</strong> | 2950 mm (L) x 1690 mm (W) x 98 mm (H) | 116.1 in (L) x 66.5 in (W) x 3.9 in (H) |
| <strong>Total Weight</strong> | 120 kg (core) | 240kg (test-ready) | 264.6 lb (core) | 529.1 lb (test-ready) |
| <strong>Maximum Speed</strong> | 80 kph | 50 mph |
| <strong>Maximum Acceleration</strong> | 0-72 kph: 1.4 m/s<sup>2</sup> | 0-44.7 mph: 4.6 fps |
| <strong>Maximum Controlled Deceleration</strong> | 50-0 kph: controlled 6 m/s<sup>2</sup> | 31.1-0 mph: controlled 19.7 fps |
| <strong>Maximum Overrun Weight</strong> | 1500 kg per wheel / 3600 kg with optional heavy duty upgrade | |
| <strong>Compatible Dummies</strong> | GVT – VRU (with add-on) | |
| <strong>Speed Control Accuracies</strong> | 0.2 kph | 0,12 mph |

 

Software

Test scenario generation – selection: intuitive GUI guides the user through the selection of predefined scenarios or in the creation of new ones.
Test scenario execution: the Humanetics UFObase software functions as a control center for up to 9 Humanetics active safety robots. This allows very complex traffic simulation scenarios where multiple vehicles are synchronized to each other to assess Performance.
Test evaluation: tailored test evaluation solutions are available within the Humanetics software portfolio. The software contains integrated evaluation software with AVL Euro NCAP Evaluation Suite as an upgrade option. All test data can be output over CAN for customer convenience. 

Applications

ADAS testing (EuroNCAP approved tool)

Automatic Emergency Braking, Car-to-Car / AEB C2C
Automatics Emergency Braking, Vulnerable Road User / AEB VRU (with arm extension)
Forward Collision Warning, Car-to-Car / FCW C2C
Forward Collision Warning, Vulnerable Road User / FCW VRU (with arm extension)
Electronic Lane Keeping / ELK (oncoming – overtaking)
Automatic Emergency Steering / AES
Emergency Steering Support / ESS
Rear Automatic Braking
Blind Spot Detection
Blind Spot Intervention
Pedestrian Automatic Emergency Braking (with arm extension)
Intersection Safety Assist
Opposing Traffic Safety Assist
Traffic Jam Assist
And more…

AV testing

Customizable traffic scenarios
Pedestrian protection
Edge case testing

Regulations

| WHERE USED | DEFINING REGULATION |
| --- | --- |
| ADR | 49CFR Part 572 Subpart-E |
| ANCAP | 49CFR Part 572 Subpart-E |
| Asean NCAP | 49CFR Part 572 Subpart-E |
| China Regulations | 49CFR Part 572 Subpart-E |
| C-NCAP | 49CFR Part 572 Subpart-E |
| Euro NCAP | Euro NCAP MPDB |
| FMVSS Standard No. 208 | 49CFR Part 572 Subpart-E |
| GTR 7 | 49CFR Part 572 Subpart-E |
| IIHS | 49CFR Part 572 Subpart-E |
| JNCAP | 49CFR Part 572 Subpart-E |
| KNCAP | 49CFR Part 572 Subpart-E |
| UN R94 | Euro NCAP MPDB |

Instrumentation

| INSTRUMENTATION | |
| --- | --- |
| Motion Data Generation | High precision DGNSS unit collects motion data during test execution |
| Motion Data Output | After each test the motion data is synchronized and saved into a result file. The user can choose to evaluate the tests based on the generated result file or to use the pre-defined evaluation software that Humanetics developed in combination with AVL. |
Resources

Data Sheets & Flyers Product Catalog Technical Bulletins