Humanetics Innovative Solutions partners with SATT Conectus Alsace to distribute SUFEHM, developed by the University of Strasbourg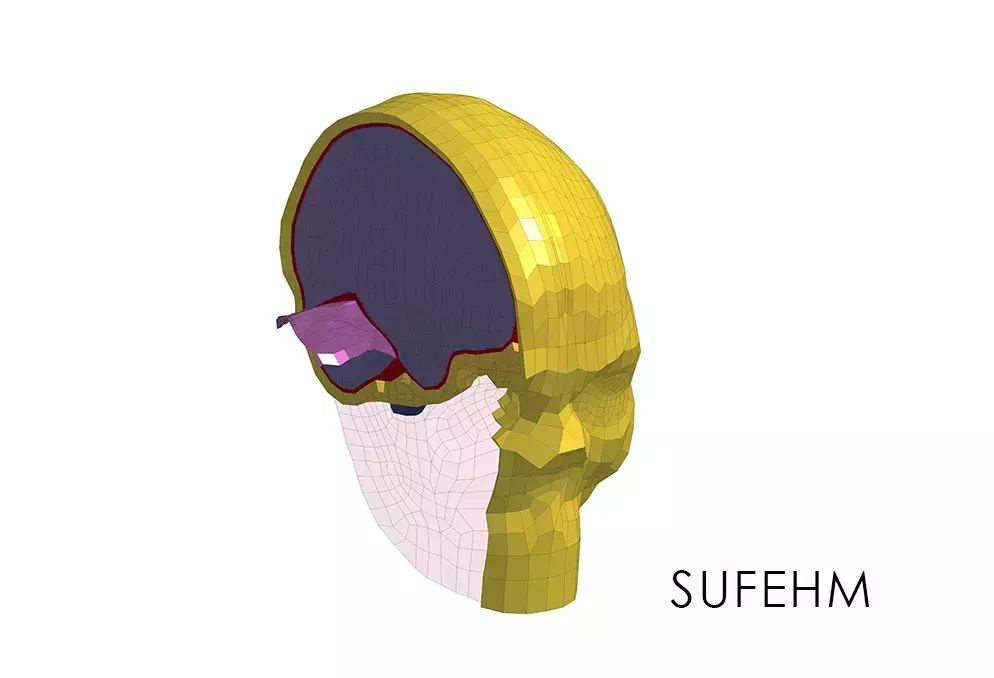 Humanetics is pleased to announce an agreement with SATT Conectus Alsace, the technology transfer affiliate of the University of Strasbourg, to serve as a global distributor for the Strasbourg University Finite Element Head Model (SUFEHM). SUFEHM is a state-of-the-art, detailed human head model developed by Strasbourg University for use in predicting head injury. As a result of this new partnership, the SUFEHM will now be available worldwide in all key markets.
SUFEHM is primarily used in automotive applications for assessing vehicle crash safety, but has also been used in other development activities, most notably for helmet design for motorcycle, bicycle and military use. It is recognized as a leading virtual proxy of the human head, having been validated to numerous impact conditions and fitted with relevant tissue level brain injury criteria. Euro NCAP is currently evaluating the advanced head injury criteria calculated by SUFEHM Box for inclusion into its assessment protocol.
Christopher O'Connor, President and CEO of Humanetics, commented, "Humanetics is excited for the opportunity to partner with Strasbourg University to promote and support this innovative product in all major markets around the world. SUFEHM greatly complements our current product portfolio and furthers our mission toward reducing the severity of injuries and ultimately eliminating automotive crash-related fatalities. We appreciate Strasbourg University for entrusting Humanetics with this life-saving, critical tool."
SUFEHM is available from Humanetics with the head model attached to a finite element dummy model or in a desktop application called SUFEHM Box that runs the model internally based on accelerations entered by the user. Since SUFEHM Box runs the model within the application itself, no finite element user experience is required.
About Humanetics Innovative Solutions
For over 65 years, Humanetics has been the leading global market designer, manufacturer and supplier of crash test dummies and calibration equipment, crash sensors and instrumentation, active safety testing equipment and services for autonomous vehicles and crash simulation software models. Humanetics serves industry leaders in a variety of high-growth markets including automotive, aviation, energy, medical, military and civil infrastructure. In the automotive sector alone, Humanetics serves 100% of the OEMs and Tier I safety suppliers worldwide. Humanetics has over 800 employees across 22 facilities strategically located around the world with its global corporate headquarters located in Farmington Hills, Michigan, USA.
About SATT Conectus Alsace
SATT* Conectus Alsace is the main entry point for business partners and companies to access all the innovations and capabilities from public research in Alsace, one of the top-ranked territories for the excellence of research in France. It borders Germany and Switzerland at the intersection of the most innovative areas of Europe. Thanks to its investment fund (up to 500k€ per innovative project), SATT Conectus offers advanced, applicative technologies whose proof of concept has been established, and is ready to be industrialized. Another type of collaboration allows companies to co-develop high potential innovative projects with public research, in order to tailor them to their specific needs.
*Organization for accelerating technology transfers

Contacts
Edward Abramoski
CAE Product Manager
Humanetics Innovative Solutions Inc.
Tel.: +1-248-778-2113
[email protected]
www.humaneticsatd.com