Euro NCAP has decided to adopt the THOR-50M for use in the planned frontal Mobile Progressive Deformable Barrier (MPDB) test.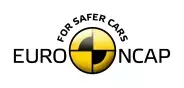 With the goal of ensuring manufacturers develop safe vehicles for passengers of all ages in the event of a crash, the Adult Occupant Safety Assessment was first introduced and carried out by Euro NCAP in 1997. The offset frontal barrier tests conducted with Hybrid III 50%-ile male (HIII-50M) dummies resulted in significant improvements in the protection of cars during frontal crashes. Further developments and recommendations from European Collaborative research projects resulted in the introduction of a full-width rigid barrier test by 2015. In this test Hybrid III 5%-ile female dummies (HIII-5F) are seated in the driver and rear seat positions.
As a next step towards the enhancement of occupant protection, a new frontal impact test procedure is being developed by Euro NCAP. This so-called Frontal Moving Progressive Deformable Barrier Test (MPDB) is planned for introduction in 2020. The test set-up consists of a moving trolley equipped with an advanced deformable element meant to assess car-to-car compatibility. During test programs in 2016, the THOR-50M dummy was evaluated positively for usage in this future test procedure.  Humanetics is happy to announce that Euro NCAP formally decided to incorporate the THOR-50M dummy in this test procedure during their board meeting held on November 3, 2016.
Over the next period, Humanetics will work closely with Euro NCAP and their Frontal Impact Working Group to clearly define the dummy configuration by means of a Standard Build Level (SBL) definition. This will include:
Modified spine box with lumbar adjustment settings limited to the four relevant positions
ASIS LC Caps with rounded corners as evaluated by BASt
HIII Lower Legs and HIII Ball Bearing Knee Sliders
Sternum Mass with straps
A future SBL update related to recommendations of the international testing community is expected by Mid-2018. This will likely include the addition of a low speed (upper) chest certification requirement as well as other updates that might be requested during the development of the Moving Progressive Deformable Barrier test and/or other procedures.
Information on the THOR-50M dummy can be found under: http://www.humaneticsatd.com/crash-test-dummies/frontal-impact/thor-m
Information on the Humanetics FE model of the THOR-50M can be found under: http://www.humaneticsatd.com/virtual-models/finite-element/available-models
Contact
Brad Baker
Director of Sales and Marketing – Americas 
Humanetics
Tel.:+1 248 778 2211
[email protected]
www.humaneticsatd.com