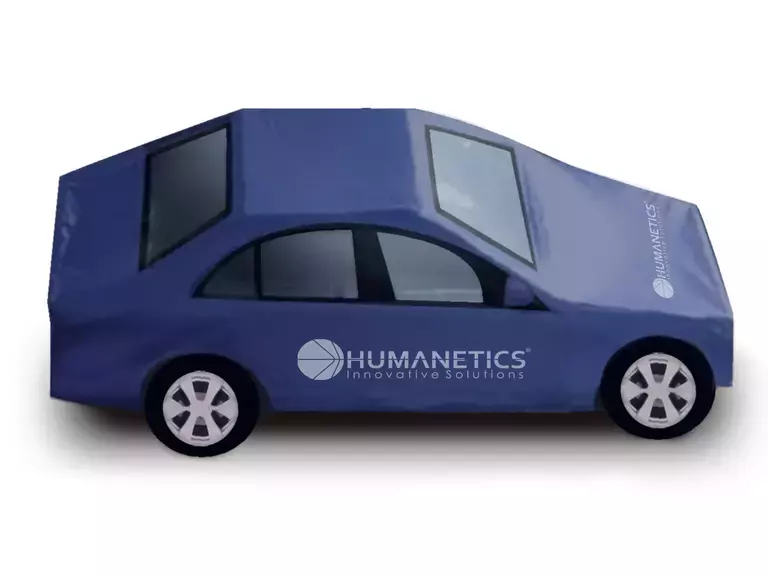 Inflatable Dummy Car
Our Dummy Car is a fresh take on the 3D vehicle target format that addresses the issue of complex reassembly following each test. While competitors' products are made from up to 30 foam rubber parts that must be pieced together time and again, the Humanetics dummy car is composed of just four inflatable elements plus a cover.
Upon impact, one of the inflatable pieces is simply dislodged. Thanks to this smart design, reassembly can be completed by one person in under a minute – saving you a wealth of time and human power at the test track.
Specifications

Key Features

Inflatable tubular structure with softshell vehicle optic cover in grey, white, blue or red
Ideal for side impact testing as its light weight (50kg) and flexibility will not deploy airbags
Crashable at speeds up to 80kph 
Velcro mounting system for UFO compatibility
Vehicle camera sensors detect air dummy as standard passenger car
Air compressor and repair kit included
Available for purchase or rental

Product Specifications

| | METRIC | IMPERIAL |
| --- | --- | --- |
| <strong>Overall Dimensions</strong> | | |
| <strong>Total Weight</strong> | 50kg | 110.2 lbs |
| <strong>Maximum Impact Speed</strong> | 80kph | 49.7 mph |

Applications

Regulations
Resources

Product Catalog